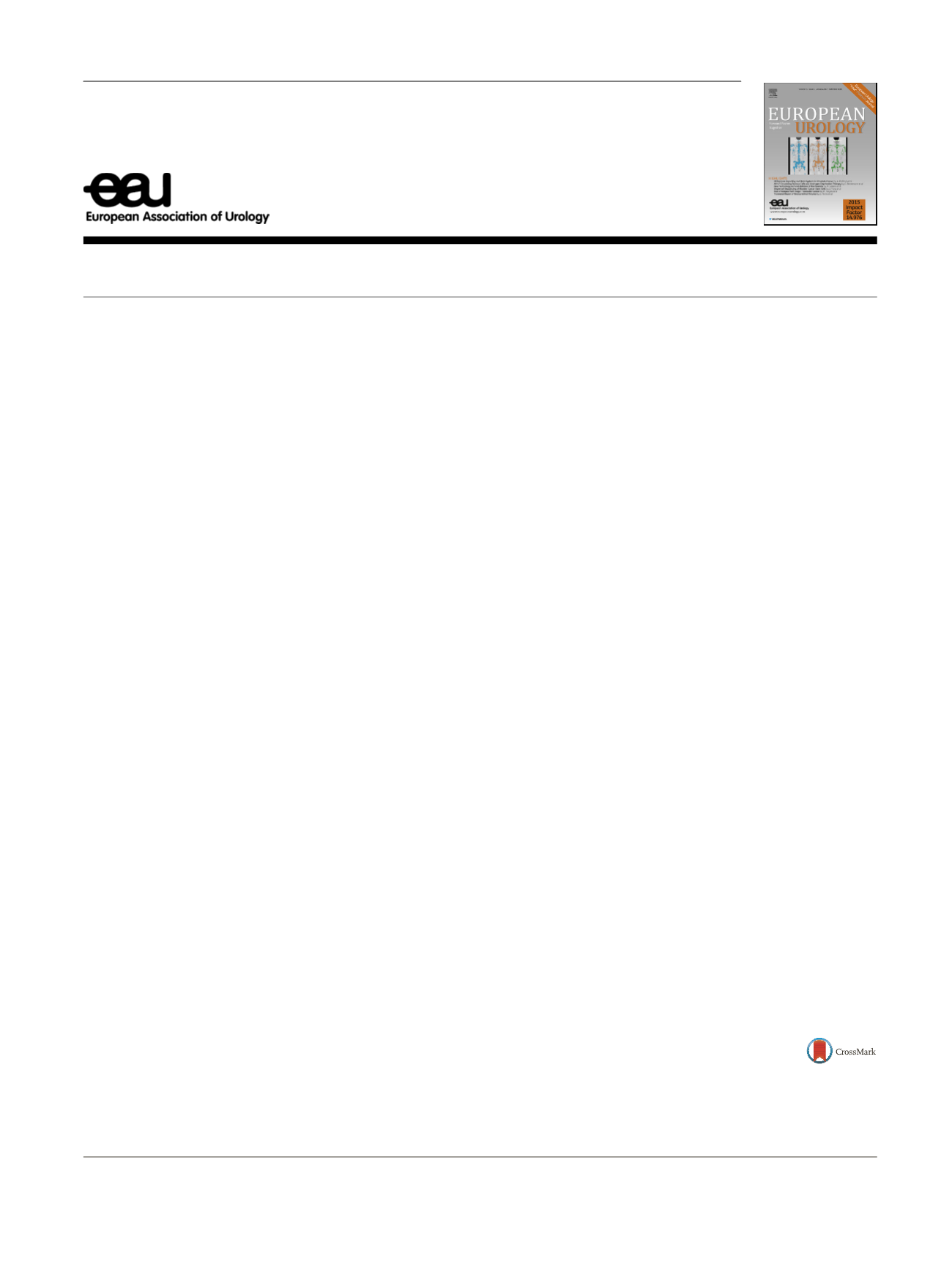 Words of Wisdom
Re: Perioperative and Short-term Outcomes of Robotic
vs Open Bladder Neck Procedures for Neurogenic
Incontinence
Grimsby GM, Jacobs MA, Menon V, Schlomer BJ, Gargollo PC.
J Urol 2016;195:1088–92
Expert's summary:
The authors retrospectively compared open (O-BNR;
n
= 26)
and robotically-assisted bladder neck reconstruction
(RA-BNR;
n
= 19) without bladder augmentation in a
pediatric population, with a mean age at surgery of 9.1 yr
[1]
. The indication for surgery in this pediatric series of
45 patients was refractory neurogenic urinary incontinence.
The mean follow-up was 2.8 yr for surgeries performed
between 2010 and 2014. The most frequent underlying
cause of neurogenic refractory incontinence was spina
bifida (34/45 cases). A sling-type BNR was performed in all
cases. The results were comparable for both cohorts,
without
[1_TD$DIFF]
any significant difference regarding outcome,
except for a longer operative time in the RA-BNR group.
The authors conclude that the two techniques are
comparable except for operative time.
Expert's comments:
Over the last decade, robotics has become a new challenge
in the pediatric population, as the very limited working
space imposes some limits. Initial adaptation of robotics for
children was applied in common procedures such as
pyeloplasty and ureteral reimplantation
[2]
. More complex
procedures such as bladder augmentation and BNR still
need to be evaluated in large series. However, even in
tertiary referral centres, indications for this type of surgery
remains limited and is decreasing with the advent of new
classes of anticholinergic agents and injection of intrave-
sical botulinum toxin
[3]
.
Patients with a spina bifida condition would clearly
benefit from minimally invasive surgery such as RA-BNR.
This population is prone to frequent hospital stays,
prolonged ileus, wound dehiscence, and infection. If
minimally invasive surgery had indeed, as suggested by
the authors, at least equivalent outcomes regarding
continence, it would offer important benefits. It is very
likely that operative time will decrease as experience
increases, so hospital stay length and immediate postoper-
ative complications will probably decreas. Larger series are
needed to prove that incisional-related complications are
likely to be reduced in this difficult patient population
compared to O-BNR, probably offering pediatric patients
with spina bifida an important benefit
[4]
.
Whether the costs of the minimally invasive techniques
such as robot-assisted surgery will be counterbalanced by
lower complication-related expenses in this pediatric
population remains to be evaluated. If the cost of robot-
assisted procedures decreases with new providers in the
future, RA-BNR would certainly become the procedure of
choice.
Conflicts of interest:
The author has nothing to disclose.
References
[1]
Grimsby GM, Jacobs MA, Menon V, Schlomer BJ, Gargollo PC. Peri-
operative and short-term outcomes of robotic vs open bladder neck
procedures for neurogenic incontinence. J Urol 2016;195:1088–92
.
[2]
Spinoit A-F, Subramaniam R. Update on the minimally invasive
approach in paediatric urology: remote help for human hands? Eur
Urol Suppl 2015;14:20–4
.
[3]
Cohen AJ, Pariser JJ, Anderson BB, Pearce SM, Gundeti MS. The
robotic appendicovesicostomy and bladder augmentation: the next
frontier in robotics, are we there? Urol Clin N Am 2015;42:121–30
.
[4]
Gundeti MS, Petravick ME, Pariser JJ, et al. A multi-institutional
study of perioperative and functional outcomes for pediatric
robotic-assisted laparoscopic Mitrofanoff appendicovesicostomy.
J Pediatr Urol 2016;12, 386.e1–5
.
Anne-Franc¸ oise Spinoi
t
*
Department of Urology, Ghent University Hospital, Ghent, Belgium
*Department of Urology, Ghent University Hospital, De Pintelaan 185,
Ghent 9000, Belgium.
E-mail address:
afspinoit@hotmail.com
.
http://dx.doi.org/10.1016/j.eururo.2017.01.003
#
2017 European Association of Urology.
Published by Elsevier B.V. All rights reserved.
E U R O P E A N U R O L O G Y 7 1 ( 2 0 1 7 ) 8 3 1 – 8 3 6
ava ilable at
www.sciencedirect.com
journal homepage:
www.eu ropeanurology.com
0302-2838/