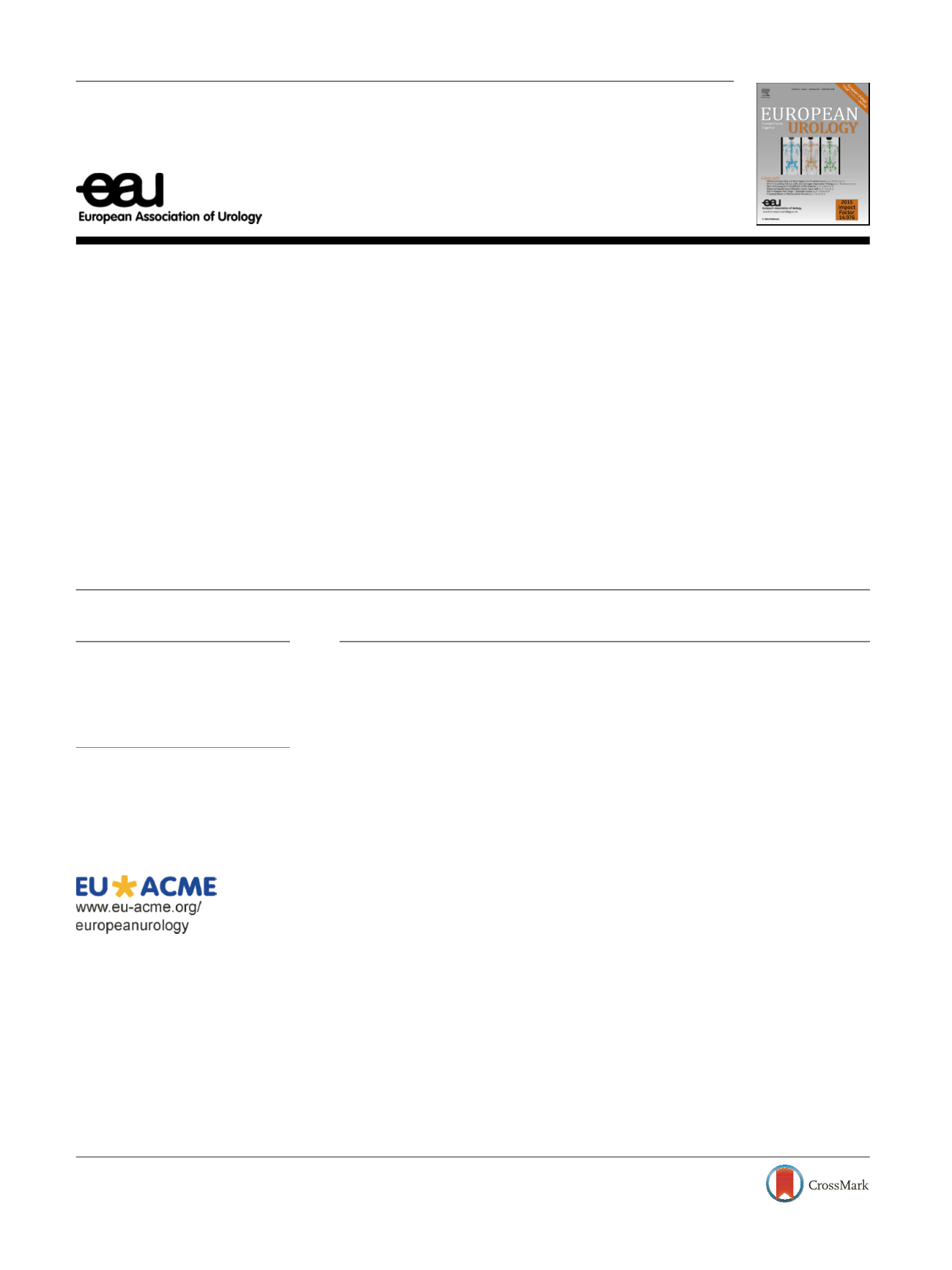 Platinum Priority – Review – Female Urology – Incontinence
Editorial by Arnaud Fauconnier, Gabrielle Aubry and Xavier Fritel on pp. 808–810 of this issue
Bladder Endometriosis: A Systematic Review of
Pathogenesis, Diagnosis, Treatment, Impact on Fertility,
and Risk of Malignant Transformation
Umberto Leone Roberti Maggiore
a
,
b
,
Simone Ferrero
a
,
b
,
*
,
Massimo Candiani
c
,
Edgardo Somigliana
d
,
Paola Vigano`
[1_TD$DIFF]
e
,
Paolo Vercellini
d
a
Academic Unit of Obstetrics and Gynecology, IRCCS AOU San Martino, Genoa, Italy;
b
Department of Neurosciences, Rehabilitation, Ophthalmology, Genetics,
Maternal and Child Health, University of Genoa, Genoa, Italy;
c
Department of Obstetrics and Gynecology, Vita Salute San Raffaele University School of
Medicine, IRCCS, Ospedale San Raffaele, Milan, Italy;
d
Department of Clinical Sciences and Community Health, Universita` degli Studi di Milano and
Department of Obstet-Gynecol, Fondazione IRCCS Ca' Granda Ospedale Maggiore Policlinico, Milan, Italy;
e
Reproductive Sciences Laboratory, Division of
Genetics and Cell Biology, IRCCS San Raffaele Scientific Institute, Milan, Italy
[3_TD$DIFF]
E U R O P E A N U R O L O G Y 7 1 ( 2 0 1 7 ) 7 9 0 – 8 0 7
available at
www.scienced irect.com
journal homepage:
www.europeanurology.com
Article info
Article history:
Accepted December 15, 2016
Associate Editor:
Jean-Nicolas Cornu
Keywords:
Bladder
Diagnosis
Endometriosis
Fertility
Treatment
Please visit
www.eu-acme.org/
europeanurology
to read and
answer questions on-line.
The EU-ACME credits will
then be attributed
automatically.
Abstract
Context:
The bladder is the most common site affected in urinary tract endometriosis.
There is controversy regarding the pathogenesis, clinical management (diagnosis and
treatment), impact on fertility, and risk of malignant transformation of bladder endome-
triosis (BE).
Objective:
To systematically evaluate evidence regarding the pathogenesis, diagnosis,
medical and surgical treatment, impact on female fertility, and risk of malignant trans-
formation of BE.
Evidence acquisition:
A systematic review of PubMed/Medline from inception until
October 2016 was performed in accordance with the Preferred Reporting Items for
Systematic Review and Meta-analysis (PRISMA) statement and was registered in the
PROSPERO registry
(
www.crd.york.ac.uk/prospero;
CRD42016039281). Eighty-seven
articles were selected for inclusion in this analysis.
Evidence synthesis:
BE is defined as the presence of endometrial glands and stroma in the
detrusor muscle. Ultrasonography is the first-line technique for assessment of BE owing to
its accuracy, safety, and cost. Clinical management can be conservative, using hormonal
therapies, or surgical. When conservative treatment is preferred, estrogen-progestogen
combinations and progestogens should be chosen because of their favorable profile that
allows long-term therapy. Surgery should guarantee complete removal of the bladder
nodule to minimize recurrence, so transurethral surgery alone should be avoided in favor
of segmental bladder resection. There is not a strong rationale for hypothesizing a
detrimental impact of BE per se on fertility. Furthermore, current evidence does not
support the removal of bladder endometriotic lesions because of the potential risk of
malignant transformation since this phenomenon is exceedingly rare.
Conclusions:
BE is a challenging condition, and the common coexistence of other types of
endometriosis means that clinical management of BE should involve collaboration
between gynecologists and urologists.
Patient summary:
In this article we review available knowledge on bladder endometri-
osis. The review provides a useful tool to guide physicians in the management of this
complex condition.
#
2016 European Association of Urology. Published by Elsevier B.V. All rights reserved.
* Corresponding author. Academic Unit of Obstetrics and Gynecology, IRCCS AOU San Martino – IST,
Largo R. Benzi 10, 16132 Genoa, Italy. Tel. +39 01139 010511525; Fax: +39 01139 0108932843.
E-mail address:
simoneferrero@me.com
(S. Ferrero).
http://dx.doi.org/10.1016/j.eururo.2016.12.015
0302-2838/
#
2016 European Association of Urology. Published by Elsevier B.V. All rights reserved.