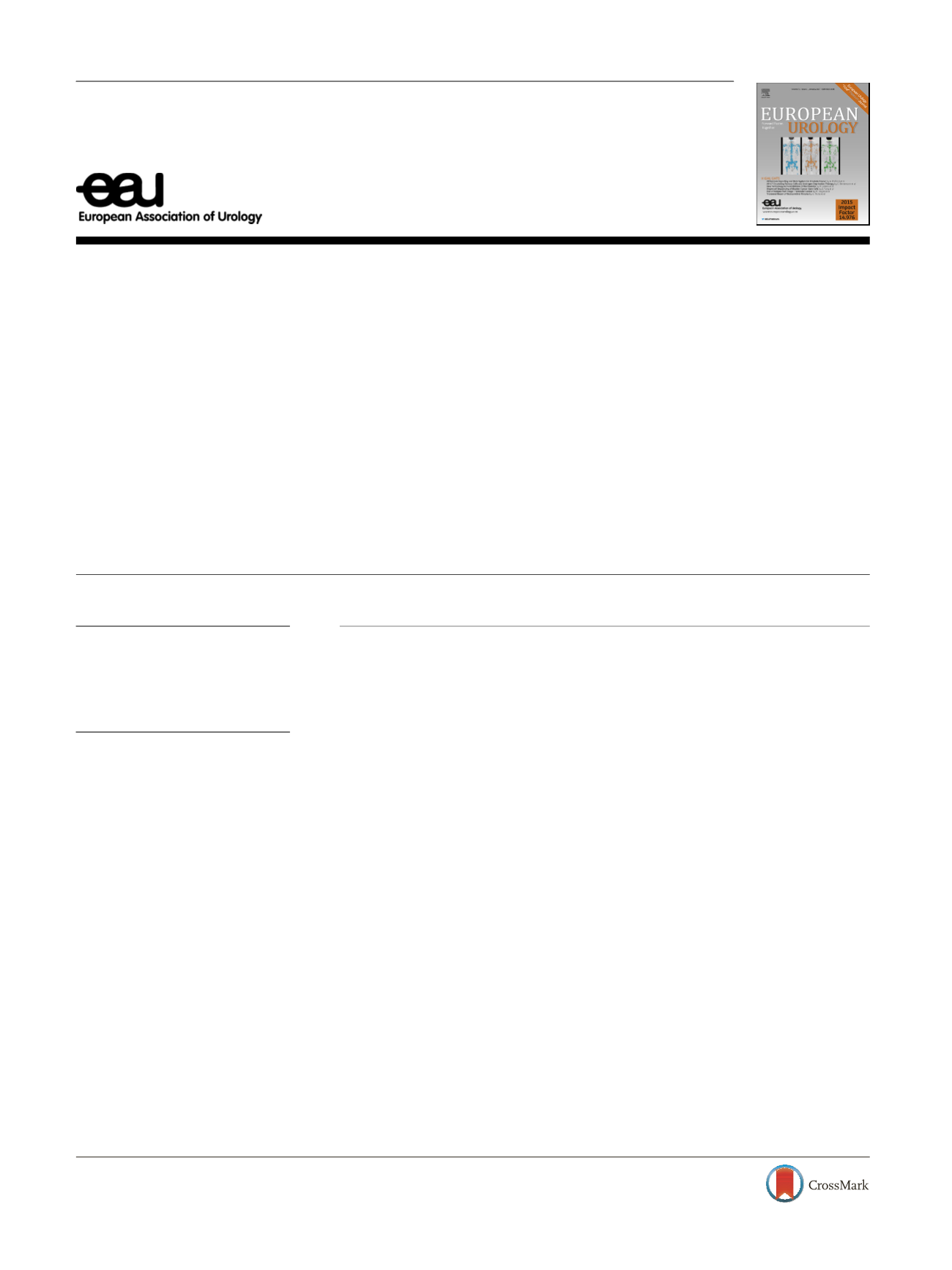 Platinum Priority – Prostate Cancer
Editorial by Martijn Lolkema, Reno Debets and Ronald de Wit on pp. 788–789 of this issue
Subgroups of Castration-resistant Prostate Cancer Bone
Metastases Defined Through an Inverse Relationship Between
Androgen Receptor Activity and Immune Response
Erik Bovinder Ylitalo
a
,
Elin Thysell
a
,
Emma Jernberg
a
,
Marie Lundholm
a
,
Sead Crnalic
b
,
Lars Egevad
c
,
Pa¨r Stattin
d
,
Anders Widmark
e
,
Anders Bergh
a
,
Pernilla Wikstro¨m
a
,
*
a
Department of Medical Biosciences, Pathology, Umea University, Umea, Sweden;
b
Department of Surgery and Perioperative Sciences, Orthopedics, Umea
University, Umea, Sweden;
c
Section of Urology, Department of Surgical Science, Karolinska Institutet, Stockholm, Sweden;
d
Department of Surgery and
Perioperative Sciences, Urology & Andrology, Umea University, Umea, Sweden;
e
Department of Radiation Sciences, Oncology, Umea University, Umea,
Sweden
E U R O P E A N U R O L O G Y 7 1 ( 2 0 1 7 ) 7 7 6 – 7 8 7
available at
www.scienced irect.com
journal homepage:
www.europeanurology.com
Article info
Article history:
Accepted July 19, 2016
Associate Editor:
Giacomo Novara
Keywords:
Bone metastasis
Castration-resistance
Immune response
Metabolism
Prostate cancer
Abstract
Background:
Novel therapies for men with castration-resistant prostate cancer (CRPC)
are needed, particularly for cancers not driven by androgen receptor (AR) activation.
Objectives:
To identify molecular subgroups of PC bone metastases of relevance for
therapy.
Design, setting, and participants:
Fresh-frozen bone metastasis samples from men with
CRPC (
n
= 40), treatment-naı¨ve PC (
n
= 8), or other malignancies (
n
= 12) were charac-
terized using whole-genome expression profiling, multivariate principal component
analysis (PCA), and functional enrichment analysis. Expression profiles were verified by
reverse transcription–polymerase chain reaction (RT-PCR) in an extended set of bone
metastases (
n
= 77) and compared to levels in malignant and adjacent benign prostate
tissue from patients with localized disease (
n
= 12). Selected proteins were evaluated
using immunohistochemistry. A cohort of PC patients (
n
= 284) diagnosed at trans-
urethral resection with long follow-up was used for prognostic evaluation.
Results and limitations:
The majority of CRPC bone metastases (80%) was defined as AR-
driven based on PCA analysis and high expression of the AR, AR co-regulators (FOXA1,
HOXB13), and AR-regulated genes (
KLK2
,
KLK3
,
NKX3.1
,
STEAP2
,
TMPRSS2
); 20% were
non–AR-driven. Functional enrichment analysis indicated high metabolic activity and
low immune responses in AR-driven metastases. Accordingly, infiltration of CD3
+
and
CD68
+
cells was lower in AR-driven than in non–AR-driven metastases, and tumor cell
HLA class I ABC immunoreactivity was inversely correlated with nuclear AR immuno-
reactivity. RT-PCR analysis showed lowMHC class I expression (
HLA-A
,
TAP1
, and
PSMB9
mRNA) in PC bone metastases compared to benign and malignant prostate tissue and
bone metastases of other origins. In primary PC, low HLA class I ABC immunoreactivity
was associated with high Gleason score, bone metastasis, and short cancer-specific
survival. Limitations include the limited number of patients studied and the single
metastasis sample studied per patient.
Conclusions:
Most CRPC bonemetastases show high AR andmetabolic activities and low
immune responses. A subgroup instead shows low AR and metabolic activities, but high
immune responses. Targeted therapy for these groups should be explored.
* Corresponding author. Department of Medical Biosciences, Umea˚ University, 901 85 Umea˚ ,
Sweden. Tel. +46 90 7853752; Fax: +46 90 7852829.
E-mail address:
pernilla.wikstrom@umu.se
(P. Wikstro¨m).
http://dx.doi.org/10.1016/j.eururo.2016.07.033
0302-2838/
#
2016 European Association of Urology. Published by Elsevier B.V. This is an open access article under the CC
BY-NC-ND license
(
http://creativecommons.org/licenses/by-nc-nd/4.0/
).