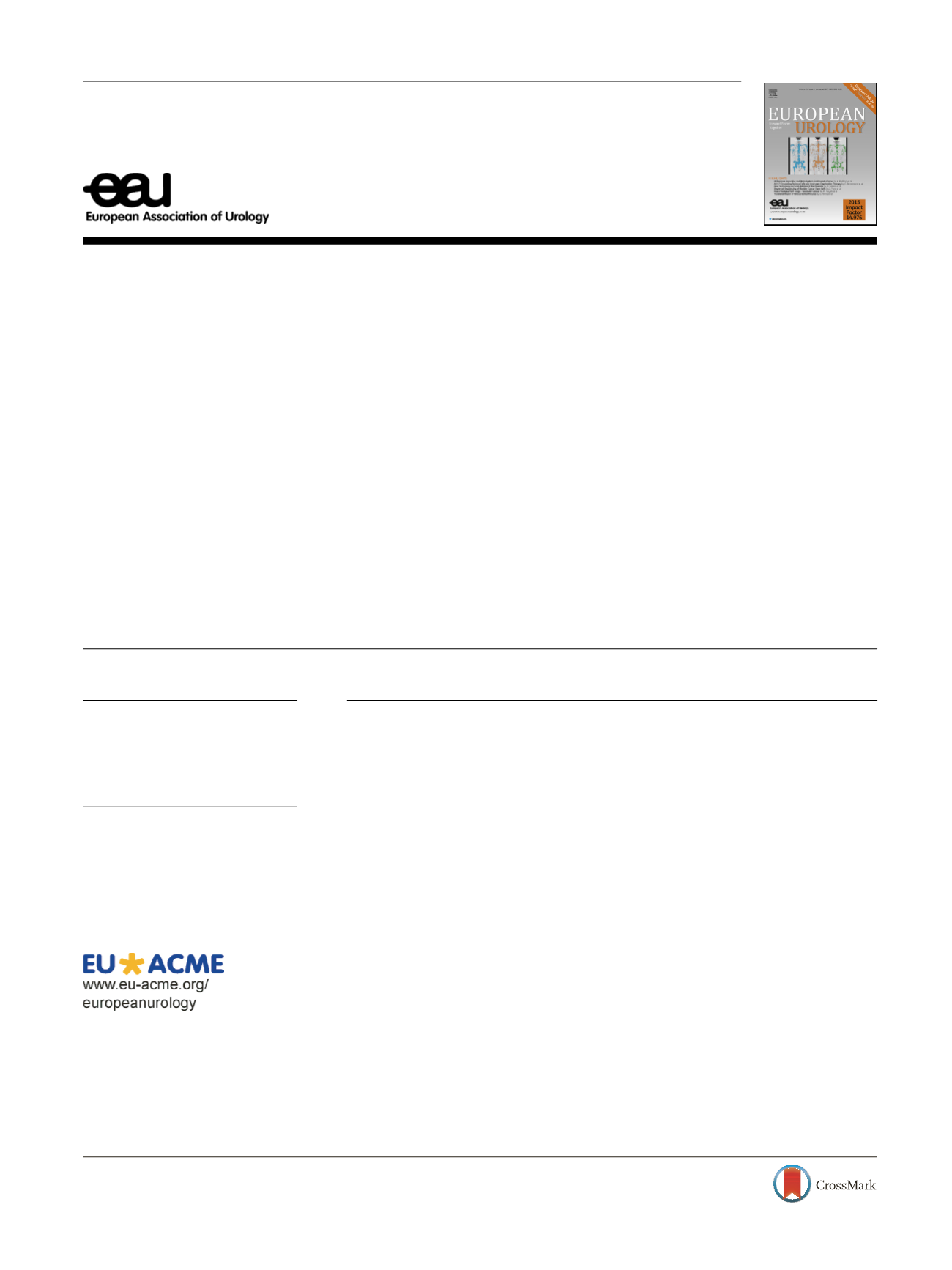 Platinum Priority – Brief Correspondence
Editorial by Nieroshan Rajarubendra and Monish Aron on pp. 727–728 of this issue
Early Recurrence Patterns Following Totally Intracorporeal
Robot-assisted Radical Cystectomy: Results from the
EAU Robotic Urology Section (ERUS) Scientific Working Group
Justin W. Collins
a
,
Abolfazl Hosseini
a
,
Christofer Adding
a
,
Tommy Nyberg
b
,
Anthony Koupparis
c
,
Edward Rowe
c
,
Matthew Perry
d
,
Rami Issa
d
,
Martin C. Schumacher
e
,
Carl Wijburg
f
,
Abdullah E. Canda
g
,
Melvin D. Balbay
h
,
Karel Decaestecker
i
,
Christian Schwentner
j
,
Arnulf Stenzl
j
,
Sebastian Edeling
k
,
Sasˇa Pokupic´
k
,
Fredrik D'Hondt
l
,
Alexander Mottrie
l
,
Peter N. Wiklund
a
,
*
a
Karolinska University Hospital, Stockholm, Sweden;
b
Karolinska Institute, Stockholm, Sweden;
c
Bristol Urological Institution, Bristol, UK;
d
St. Georges
Hospital London, London, UK;
e
Hirslanden Klinik, Aarau, Switzerland;
f
Carl Wijburg, Rijnstate, Arnhem, The Netherlands;
g
Ankara Ataturk Hospital, Ankara,
Turkey;
h
Memorial Sisli Hospital, Istanbul, Turkey;
i
Ghent University Hospital, Ghent, Belgium;
j
University of Tu¨bingen, Tu¨bingen, Germany;
k
Da Vinci
Zentrum, Hanover, Germany;
l
O.L.V, Clinic, Aalst, Belgium
E U R O P E A N U R O L O G Y 7 1 ( 2 0 1 7 ) 7 2 3 – 7 2 6
ava ilable at
www.sciencedirect.com
journal homepage:
www.eu ropeanurology.com
Article info
Article history:
Accepted October 17, 2016
Associate Editor:
James Catto
Keywords:
Robot-assisted radical
cystectomy
Early recurrence patterns
Oncologic outcomes
Totally intracorporeal robot-
assisted radical cystectomy
Please visit
www.eu-acme.org/
europeanurology
to read and
answer questions on-line.
The EU-ACME credits will
then be attributed
automatically.
Abstract
Recurrence following radical cystectomy often occurs early, with
>
80% of recurrences
occurring within the first 2 yr. Debate remains as to whether robot-assisted radical
cystectomy (RARC) negatively impacts early recurrence patterns because of inadequate
resection or pneumoperitoneum. We report early recurrence patterns among
717 patients who underwent RARC with intracorporeal urinary diversion at nine
different institutions with a minimum follow-up of 12 mo. Clinical, pathologic, radio-
logic, and survival data at the latest follow-up were collected. Recurrence-free survival
(RFS) estimates were generated using the Kaplan-Meier method, and Cox regression
models were built to assess variables associated with recurrence. RFS at 3, 12, and 24 mo
was 95.9%, 80.2%, and 74.6% respectively. Distant recurrences most frequently occurred
in the bones, lungs, and liver, and pelvic lymph nodes were the commonest site of local
recurrence. We identified five patients (0.7%) with peritoneal carcinomatosis and two
patients (0.3%) with metastasis at the port site (wound site). We conclude that unusual
recurrence patterns were not identified in this multi-institutional series and that
recurrence patterns appear similar to those in open radical cystectomy series.
Patient summary:
In this multi-institutional study, bladder cancer recurrences follow-
ing robotic surgery are described. Early recurrence rates and locations appear to be
similar to those for open radical cystectomy series.
#
2016 European Association of Urology. Published by Elsevier B.V. All rights reserved.
* Corresponding author. Department of Urology, Karolinska University Hospital, 171 76 Stockholm,
Sweden. Tel. +46 8 51772854; Fax: +46 8 51773599.
E-mail address:
peter.wiklund@karolinska.se
(P.N. Wiklund).
http://dx.doi.org/10.1016/j.eururo.2016.10.030
0302-2838/
#
2016 European Association of Urology. Published by Elsevier B.V. All rights reserved.