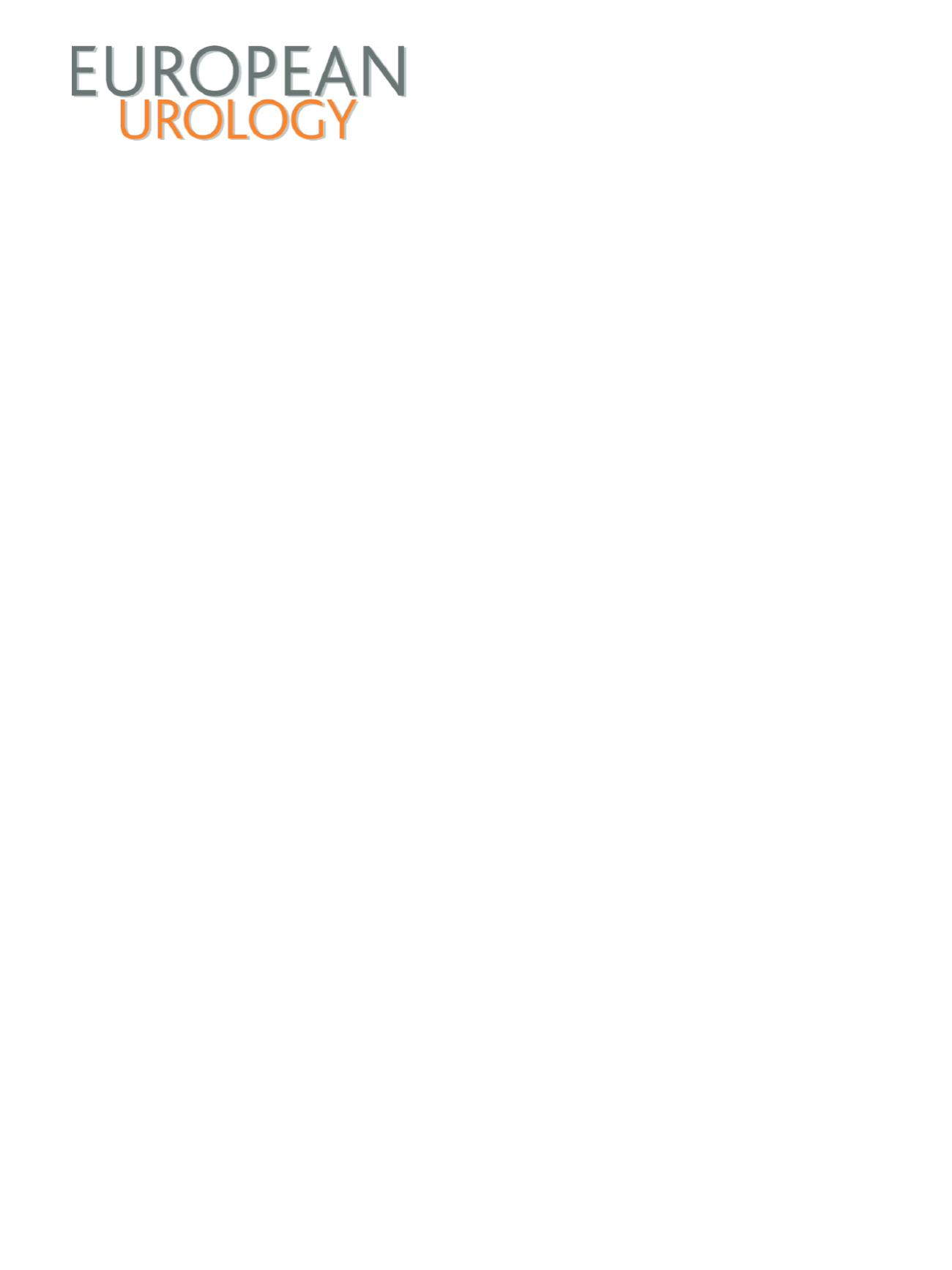 The
Platinum
Hall of Fame
2014
Indium-111-labeled Girentuximab ImmunoSPECT as
a Diagnostic Tool in Clear Cell Renal Cell Carcinoma
C.H.J. Muselaers, O.C. Boerman, E. Oosterwijk, J.F. Langenhuijsen,
W.J.G. Oyen, P.F.A. Mulders
European Urology 2013;63:1101–1106
2015
Renal Function After Nephron-sparing Surgery
Versus Radical Nephrectomy: Results from EORTC
Randomized Trial 30904
E. Scosyrev, E.M. Messing, R. Sylvester, S. Campbell, H. Van Poppel
European Urology 2014;65:372–377
2016
Combination Treatment with Mirabegron and Solifenacin in
Patients with Overactive Bladder: Efficacy and Safety Results
from a Randomised, Double-blind, Dose-ranging, Phase 2
Study (Symphony)
P. Abrams, C. Kelleher, D. Staskin, T. Rechberger, R. Kay,
R. Martina, D. Newgreen, A. Paireddy, R. van Maanen, A. Ridder
European Urology 2015:67:577–588
2017
PI-RADS Prostate Imaging – Reporting and Data System: 2015,
Version 2
J.C. Weinreb*, J.O. Barentsz*, P.L. Choyk, F. Cornu, M.A. Haider,
K.J. Macur, D. Margolis, M.D. Schnall, F. Shtern, C.M. Tempany,
H.C. Thoeny, S. Verma
European Urology 2016;69:16–40
* These authors share first authorship.
Residents' Corner
2008
Initial Biopsy Outcome Prediction—Head-to-Head
Comparison of a Logistic Regression-Based Nomogram
versus Artificial Neural Network
F.K.-H. Chun, M. Graefen, A. Briganti, A. Gallina, J. Hopp,
M.W. Kattan, H. Huland, P.I. Karakiewicz
European Urology 2007;51:1236–1243
&
hK2 and Free PSA, a Prognostic Combination in Predicting
Minimal Prostate Cancer in Screen-Detected Men within
the PSA Range 4–10 ng/ml
R. Raaijmakers, S.H. de Vries, B.G. Blijenberg, M.F. Wildhagen,
R. Postma, C.H. Bangma, C. Darte, F.H. Schröder
European Urology 2007;52:1358–1364
2009
Evaluation of Prostate Cancer Detection with Ultrasound
Real-Time Elastography: A Comparison with Step Section
Pathological Analysis after Radical Prostatectomy
G. Salomon, J. Köllerman, I. Thederan, F.K.H. Chun, L. Budäus,
T. Schlomm, H. Isbarn, H. Heinzer, H. Huland, M. Graefen
European Urology 2008;54:1354–1362
&
Radical Prostatectomy for Incidental (Stage T1a–T1b)
Prostate Cancer: Analysis of Predictors for Residual
Disease and Biochemical Recurrence
U.Capitanio,V.Scattoni,M.Freschi,A.Briganti,A.Salonia,A.Gallina,
R. Colombo, P.I. Karakiewicz, P. Rigatti, F. Montorsi
European Urology 2008;54:118–125
2010
Influence of Nerve Transsections and Combined
Bladder Filling on Intravesical Electrostimulation-
Induced Bladder Contraction in the Rat
L. De Bock, S. De Wachter, J.J. Wyndaele
European Urology 2009;56:527–533
Sponsored By Eli Lilly
&
The Role of Biopsy Core Number in Selecting Prostate
Cancer Patients for Active Surveillance
M. Ploussard, E. Xylinas, L. Salomon, Y. Allory, D. Vordos, A. Hoznek,
C.-C. Abbou, A. de la Taille
European Urology 2009;56:891–898
Sponsored By Eli Lilly
2011
Midterm Prospective Evaluation of TVT-Secur Reveals
High Failure Rate
J.N. Cornu, P. Sèbe, L. Peyrat, C. Ciofu, O. Cussenot, F. Haab
European Urology
2010;58:157–161
&
HYAL-1 Hyaluronidase: A Potential Prognostic Indicator
for Progression to Muscle Invasion and Recurrence in
Bladder Cancer
M.W. Kramer, R. Golshani, A.S. Merseburger, J. Knapp, A. Garcia,
J. Hennenlotter, R.C. Duncan, M.S. Soloway, M. Jorda, M.A. Kuczyk,
A. Stenzl, V.B. Lokeshwar
European Urology 2010;57:86–94
2012
Exosomes as Biomarker Treasure Chests for Prostate
Cancer
D. Duijvesz, T. Luider, C. Bangma, G. Jenster
European Urology 2011;59:823–831
&
Cancer-Specific and Other-Cause Mortality After Radical
Prostatectomy Versus Observation in Patients with
Prostate Cancer: Competing-Risks Analysis of a Large
North American Population-Based Cohort
F. Abdollah, M. Sun, J. Schmitges, Z. Tian, C. Jeldres, A. Briganti,
L. Shariat, P. Perrotte, F. Montorsi, P. Karakiewicz
European Urology 2011;60:920–930
2013
Prospective Assessment of Prostate Cancer Aggres-
siveness Using 3-T Diffusion-Weighted Magnetic
Resonance Imaging–Guided Biopsies Versus a Systematic
10-Core Transrectal Ultrasound Prostate Biopsy Cohort
T. Hambrock, C. Hoeks, C. Hulsbergen-van de Kaa, T. Scheenen,