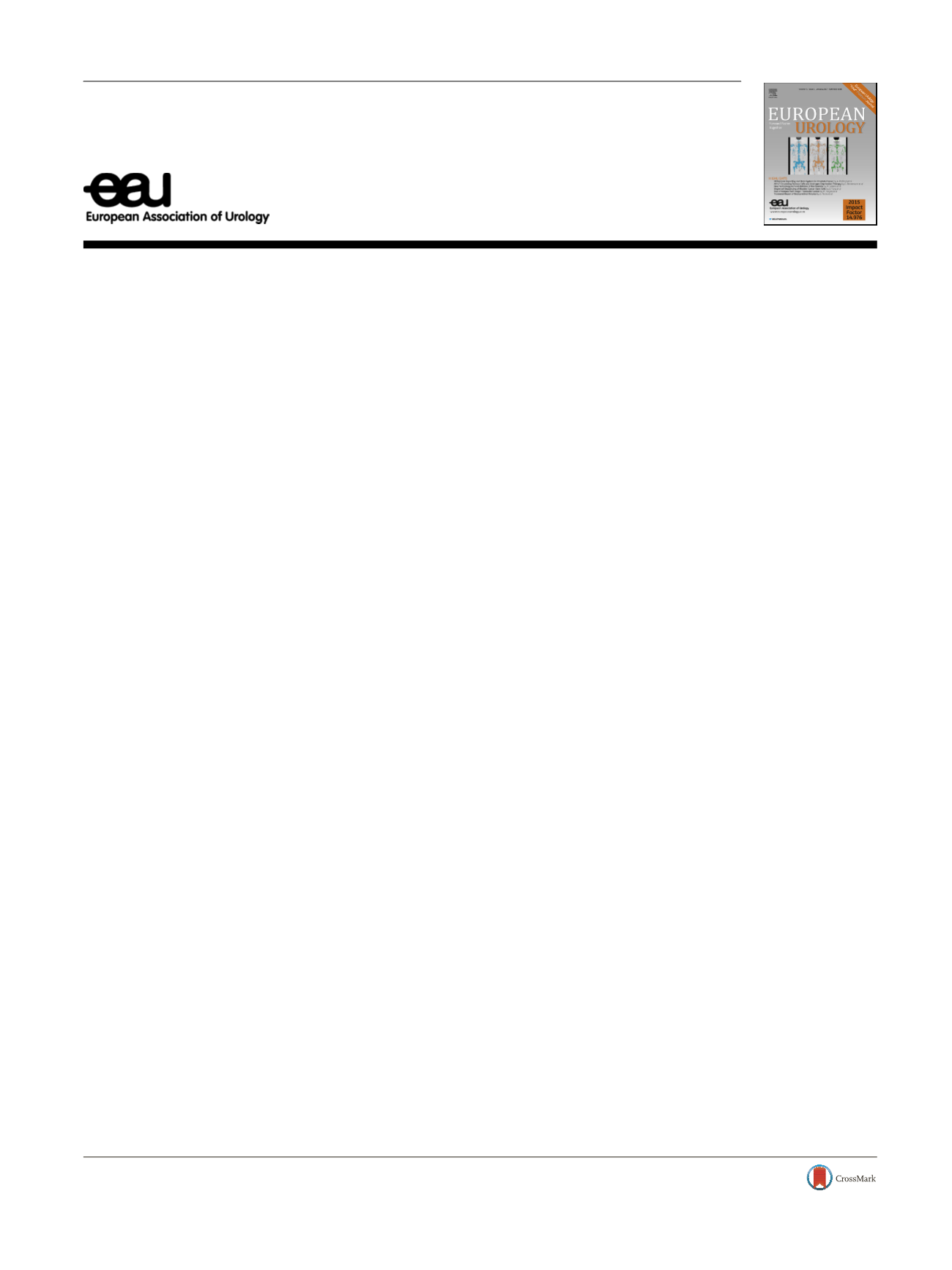 Letter to the Editor
Re: Ernesto R. Cordeiro Feijoo, Arjun Sivaraman,
Eric Barret, et al. Focal High-intensity Focused
Ultrasound Targeted Hemiablation for Unilateral
Prostate Cancer: A Prospective Evaluation of Oncologic
and Functional Outcomes. Eur Urol 2016;69:214–20
We read the article by Cordeiro Feijoo et al
[1]
with great
interest. This was a prospective study in a single center
evaluating oncologic and functional outcomes for 67 patients
with unilateral organ-confined prostate cancer treated with
focal high-intensity focused ultrasound hemiablation.
Results in terms of post-treatment control biopsies and
prostate-specific antigen (PSA) indicated that this treatment
yielded satisfactory tumor control over short-term follow-
up. Meanwhile, recovery data for urinary and erectile
functions demonstrated minimal postoperative functional
changes. We would like to pose some questions about the
study in the hope of gaining a better understanding of the
relevant application of focal therapy in prostate cancer.
On the basis of recent studies, focal therapy is
recommended for patients with low- and intermediate-
risk disease. The inclusion criteria adopted by Cordeiro
Feijoo et al
[1]
were similar to the current expert consensus
[2]
. One of the inclusion criteria was maximum positive
biopsies
<
33%. However, the authors did not report a
specific upper limit and there was no relevant information
about positive biopsies in the article. Given that the median
number of biopsy cores was 22, 33% of this should equate to
approximately seven. According to the Epstein criteria,
tumors with three or more positive biopsy cores should be
classified as clinically significant
[3]
.
The aim of focal
therapy is eradication of all identifiable significant tumor
[4]
. We would like to know why maximum positive
biopsies
<
33% rather than fewer than three positive biopsy
cores was selected as the study inclusion criterion.
The prostate is a bilaterally symmetric organ. There
should be no significant difference in tumor incidence rates
between the left and right sides of the prostate. However,
the tumor distribution results reported by Cordeiro Feijoo
et al
[1]
were 37.3% for the left side and 62.7% for the right.
We wonder if this resulted from a small sample size or
selection bias. Some studies have revealed that in the early
stage of prostate cancer, the tumor incidence rate is higher
in the apex than in the basal part of the gland
[5]
. However,
the results described by Cordeiro Feijoo et al
[1]
show the
opposite. We are curious about the reasons for this
difference. Side effects are usually apparent within 3 mo
after focal therapy, and it is recommended that functional
assessments are carried out at 12 mo after treatment
[4]
.
In
the study by Feijoo et al
[1]
, median follow-up was 12 mo,
but functional outcomes were evaluated at 3 mo. We
wonder why the authors did not evaluate functional
outcomes at 12-mo follow-up.
Conflicts of interest:
The authors have nothing to disclose.
References
[1]
Cordeiro Feijoo ER, Sivaraman A, Barret E, et al. Focal high-intensity
focused ultrasound targeted hemiablation for unilateral prostate
cancer: a prospective evaluation of oncologic and functional out-
comes. Eur Urol 2016;69:214–20
.
[2]
van den Bos W, Muller BG, Ahmed H, et al. Focal therapy in prostate
cancer: international multidisciplinary consensus on trial design.
Eur Urol 2014;65:1078–83
.
[3]
Oon SF, Watson RW, O'Leary JJ, Fitzpatrick JM. Epstein criteria for
insignificant prostate cancer. BJU Int 2011;108:518–25.
[4]
Postema AW, De Reijke TM, Ukimura O, et al. Standardization of
definitions in focal therapy of prostate cancer report from a Delphi
consensus project. World J Urol 2016;34:1373–82
.
[5]
Takashima R, Egawa S, Kuwao S, Baba S. Anterior distribution of
stage T1c nonpalpable tumors in radical prostatectomy specimens.
Urology 2002;59:692–7
.
Runqiang Yuan
Hongxing Huang*
Department of Urology, Zhongshan City People's Hospital, Zhongshan,
Guangdong, People's Republic of China
*Corresponding author. Department of Urology, Zhongshan City People's
Hospital, 2 Sun Wen Zhong Road, Zhongshan, Guangdong 528403,
People's Republic of China.
E-mail address:
huanghongxing11@163.com
(H. Huang).
E U R O P E A N U R O L O G Y 7 1 ( 2 0 1 7 ) e 1 4 7
ava ilable at
www.sciencedirect.com
journal homepage:
www.eu ropeanurology.com
DOI of original article:
http://dx.doi.org/10.1016/j.eururo.2015.06.018
.
http://dx.doi.org/10.1016/j.eururo.2016.10.044
0302-2838/
#
2016 European Association of Urology. Published by Elsevier B.V. All rights reserved.