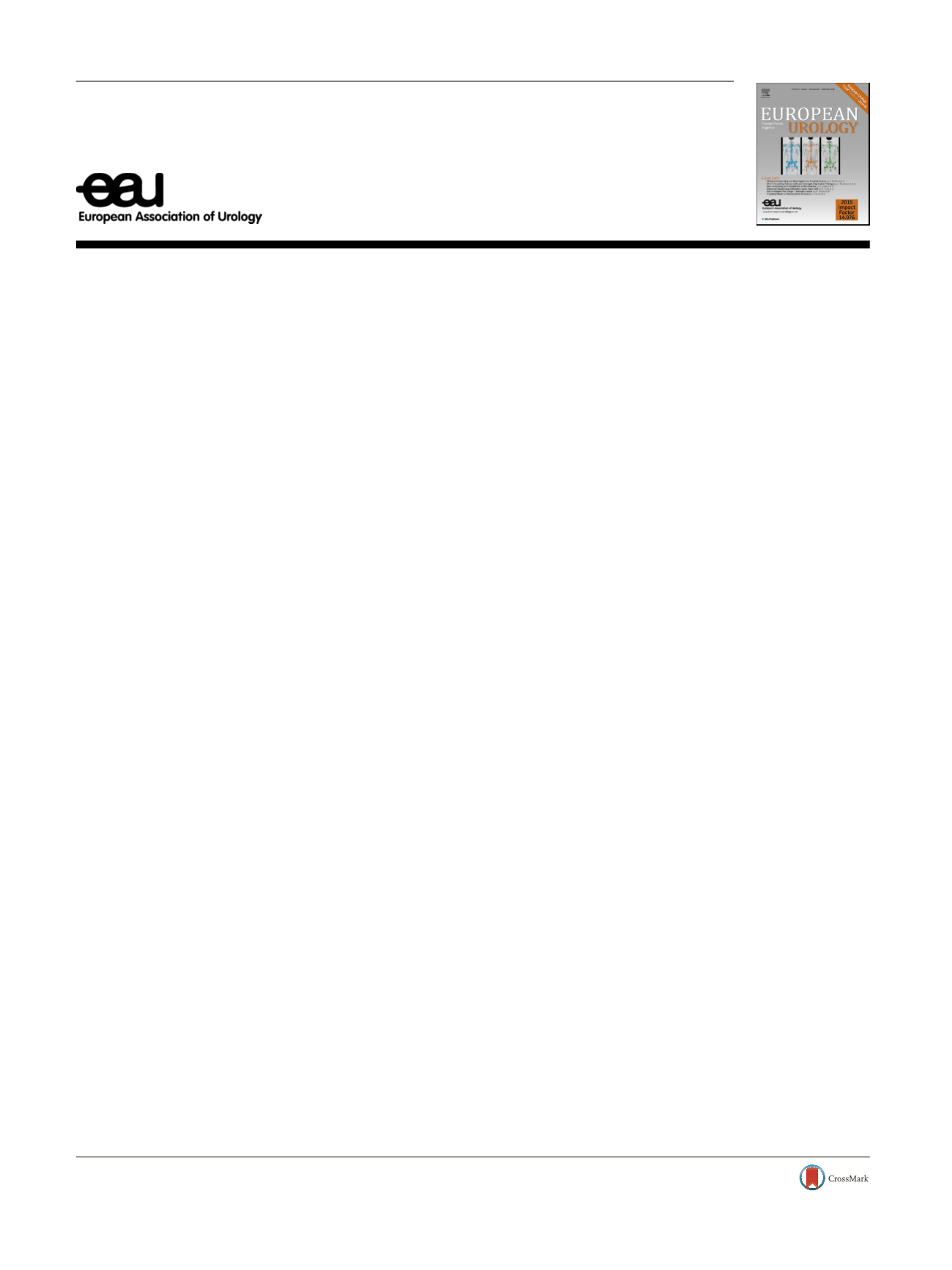 Letter to the Editor
Re: Omar Fahmy, Mohd Ghani Khairul-Asri, Christian
Schwentner, et al. Algorithm for Optimal Urethral
Coverage in Hypospadias and Fistula Repair:
A Systematic Review. Eur Urol 2016;70:293–8
We read with great interest the recent article by Fahmy et al
[1]
who reviewed techniques to identify the best urethral
coverage in tubularized incised plate (TIP) urethroplasty
and fistula repair. Without doubt, the authors have carried
out a meaningful and thorough review. Nevertheless, we
would like to make some comments on this issue.
TIP urethroplasty is currently the most popular tech-
nique used for hypospadias correction, especially for the
distal type, mainly because of its simplicity, reliability, and
superior cosmetic results
[2,3]
. Although use of a single-
layer or double-layer dartos fascia (DF) flap reduces the
fistula rate, it might complicate the simple technique.
Moreover, the greater the DF dissection, the greater is the
risk of skin complications. As the authors emphasized,
many studies included in the systematic review lacked
information regarding skin complications. However, skin
complications might represent a major drawback of the DF
technique, as reported by some studies (eg, refs. [35,53,54]
in the article). Therefore, vascular spongious tissue (spon-
gioplasty) should be a good choice for additional neourethral
coverage, and this technique would be conducive for
correction of chordee and penile torsion
[4]
. Spongioplasty
alone is usually sufficient during TIP urethroplasty for
distal hypospadias
[5]
. For cases with a poorly developed
spongiosum, spongioplasty plus a DF flap has been
suggested to minimize the complication rate
[4,6]
.
DF flaps for use as protective coverage can be harvested
from the inner layer of the prepuce, the dorsal or ventral
penile shaft, or the scrotum. Different DF sources may lead
to different outcomes because of differences in the degree of
development and dissection. Thus, we believe that the DF
should be divided and compared in subgroups.
In addition, one study (ref. [29] in the article) should be
excluded from the group of studies with a double-layer DF
flap since the neourethra was covered with paraurethral
spongious tissue plus a DF flap rather than a double-layer
DF flap, and another study (ref. [55] in the article) should be
excluded from the tunica vaginalis flap (TVF) group because
the neourethra was covered using external spermatic fascia.
Moreover, a further study (ref. [53] in the article) should be
excluded from the overall analysis since spongioplasty was
added in all cases beyond the use of DF flaps or TVF.
In summary, we believe that the literature retrieval
process should be as comprehensive as possible for a
systematic review; at the very least, the threemost important
databases (MEDLINE/PubMed, EMBASE, and Cochrane
Library–CENTRAL) should be searched. In addition, Boolean
logic can play a very helpful role during article retrieval.
Conflicts of interest:
The authors have nothing to disclose.
References
[1]
Fahmy O, Khairul-Asri MG, Schwentner C, et al. Algorithm for
optimal urethral coverage in hypospadias and fistula repair: a
systematic review. Eur Urol 2016;70:293–8.
[2]
Springer A, Krois W, Horcher E. Trends in hypospadias surgery:
results of a worldwide survey. Eur Urol 2011;60:1184–9.
[3]
Wang F, Xu Y, Zhong H. Systematic review and meta-analysis of
studies comparing the perimeatal-based flap and tubularized in-
cised-plate techniques for primary hypospadias repair. Pediatr Surg
Int 2013;29:811–21.
[4]
Bhat A, Sabharwal K, Bhat M. Outcome of tubularized incised plate
urethroplasty with spongioplasty alone as additional tissue cover: a
prospective study. Indian J Urol 2014;30:392–7
.
[5]
Yerkes EB, Adams MC, Miller DA, et al. Y-to-I wrap: use of the distal
spongiosum for hypospadias repair. J Urol 2000;163:1536–8.
[6]
Bilici S, Sekmenli T, Gunes M, et al. Comparison of dartos flap and
dartos flap plus spongioplasty to prevent the formation of fistulae in
the Snodgrass technique. Int Urol Nephrol 2011;43:943–8.
Lei Kang
a
Lugang Huang
b
Jingti Zhang
a,
*
a
Department of Urology, Xi'an Children's Hospital, Xi'an Jiaotong University,
Xi'an, People's Republic of China
b
Department of Pediatric Surgery, West China Hospital, Sichuan University,
Chengdu, People's Republic of China
*Corresponding author. Department of Urology, Xi'an Children's
Hospital, Xi'an Jiaotong University, 69 Xijuyuan Lane, Xi'an, Shaanxi
710003, People's Republic of China. Tel. +86 18 991236756.
E-mail address:
zhangjingti0935@yeah.net
(J. Zhang).
November 16, 2016
E U R O P E A N U R O L O G Y 7 1 ( 2 0 1 7 ) e 1 5 4
available at
www.scienced irect.com
journal homepage:
www.europeanurology.com
DOI of original article:
http://dx.doi.org/10.1016/j.eururo.2015.12.047
.
http://dx.doi.org/10.1016/j.eururo.2016.11.025
0302-2838/
#
2016 European Association of Urology. Published by Elsevier B.V. All rights reserved.